ESA Post-Surgery lenses
ESA post-surgery lenses are large-diameter, inverse geometry hexcurve contact lenses specifically designed for application on corneas that have already undergone refractive surgery.
In these cases, it is extremely difficult to obtain suitable lens alignment in the both the optical area and in the peripheral area with a traditional design.
The ESA post-surgery are indicated for the majority of the corneas subjected to eye surgery both photoablative (LASIK, LASEK, PRK) is incisional (RK). The innovative design of the ESA allows you to control post-surgery in a relatively simple way is to align both the peripheral clearance center, so as to optimize the alignment of the lens on the cornea with a modified geometry.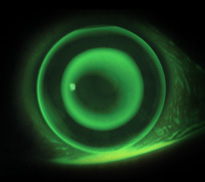 Post Surgery Esa Lens